Step and Touch Instrument
Video Overview
SNT Kit
The SNT Kit contains everything you need to monitor step and touch potential, including:
SNT instrument
user guide
carrying case
battery charging adapters
ground rod
magnetic and clamp probe end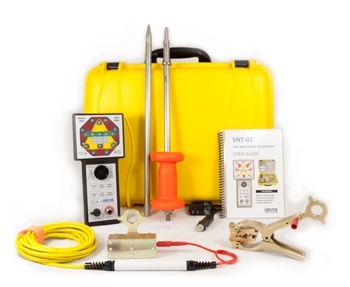 User Guide
---
The Step and Touch (SNT) instrument monitors and alarms "Step and Touch" potential caused by ground potential rise. When used properly, the SNT can enhance the safety of transmission line crews.
Alarm Ranges
The SNT provides audible and visual alarm warnings if the probe voltage is in a dangerous range. Each voltage range has a distinct pattern of bright flashing LEDs and audible 80 dB(A) alert. (The SNT also detects and warns of Lost Probe Connection and Low Battery).
| Range | Instrument Actions |
| --- | --- |
| 0 - 100V | |
| 101 - 499V | |
| 500V+ | |
Utility Tested & Field Proven
An innovation by Bonneville Power Administration engineers, the SNT Instrument has been helping ensure the safety of BPA line crews since 2003.
Starting in 2011, the SNT is available to other customers from the long-time manufacturer of the SNT instrument, Delta Computer Systems, Inc.
Specifications
Full Scale Voltage 50 Hz to 60 Hz
999 Vrms sine wave with < 5% Total Harmonic Distortion
Absolute Max Probe Voltage
5000 Vrms
Step Voltage Response
95% rise time < 1 second.
During probe check, step response may be up to 4.5 seconds.
Accuracy
1% typical for 500 V (3.5% from -30°C to +50°C)
Probe Impedance
20 MΩ
Voltages Displayed
10 to 999 Vrms
Standard Alarm Voltage Ranges (others can be programmed by the factory as an option)
0 to 100 — Green LEDs slow flash
101 to 499 — Yellow LEDs flash, beeps every second
500 plus — Red LEDs flash rapidly, beeps rapidly
Audio Alert
90 dB at 2 feet
Displays
Voltage Display
3 digit voltage using bright seven segment displays
Threshold Warning
Three high intensity Green LEDs
Five high intensity Yellow LEDs
Eight high intensity Red LEDs
Check Probe & Battery Low
Blue LEDs
Probe Connection Check
Performed every 60 seconds. Duration is 3.5 seconds, during which time the probe voltage is not sampled.
Battery Life
60 hours typical.
Low battery is indicated by LED, very low battery activates fault mode (flashing LEDs and audible alert).
Battery Type
Ni-MH, 500 charge cycles typical
Ingress Protection
Designed for IP64
Instrument Weight
907 grams (2 pounds)
Kit Weight
10K grams (22 pounds) includes instrument and case
Case Size (H × W × L)
19.1 cm × 39.6 cm × 50.2 cm (7.5 in × 15.6 in × 19.75 in)